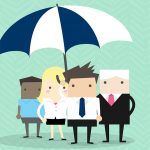 All life insurance contracts are underwritten by MetLife.
---
Group Term Life Insurance
When a loved one dies prematurely, their families may not only have to deal with intense emotional distress, but financial vulnerability too. Through MetLife term life insurance, employees can tailor solutions to meet their personal financial needs — so they can be confident that their family is protected, whatever happens.
A premature death can turn a family's world upside and leave them financially vulnerable. You can help your employees protect their family, should the worst happen, while balancing your own costs. With MetLife by your side, you can do right by your organization, your employees and their families.
Tailored to Meet Individual Needs
While term life insurance provides essential protection, it may not be enough for all employees. That's why we also offer a broad range of products to give your employees and their families the complete coverage they need. We'll work with you to design a solution that's right for your employees — and your benefits budget.
• Basic Term Life provides financial protection for your employees' family or beneficiaries, who can receive benefits in flat dollar amounts or as a multiple of the employee's pay
• Supplemental Term Life gives employees the option to buy additional coverage to support their family's needs.
• Dependent Term Life offers your employee the opportunity to extend coverage to spouses, domestic partners and eligible children
• Voluntary Retiree Life offers retirees term life coverage to meet their changing needs — and increases employee loyalty, with no cost to you.
Living Benefits of Life Insurance
Having life insurance is an important first step towards ensuring your family's financial security. For complete protection, we offer additional services and benefits to help employees navigate life's unexpected twists and turns:
• Metlife AdvantagesSM includes a comprehensive suite of services designed to help employees navigate what life may bring, at no additional cost.
• Waiver of Premium enables employees to continue coverage after becoming completely disabled.
• Accelerated Benefits Option helps terminally ill employees reduce their financial concerns by allowing them to use a portion of their life insurance to cover expenses.
With the right solutions and support, you can give your employees a range of options to meet their personal financial needs. You can help
them feel confident they've made the best decisions. With MetLife on your side, you'll find it easy to do right by your organization, your employees and their families.
Accidental Death & Dismemberment Coverage
When unexpected events occur, our Accidental Death & Dismemberment plans can help provide much-needed financial support and stability. Covered events include accidental death, paralysis, third-degree burns, comas, and loss of speech, hearing, sight or limbs. We expedite claims processing.
Basic Life Insurance – Value Add Services
Supplemental Life Insurance – Value Add Services
Eligibility & Participation
Basic Life and AD&D, Supplemental Life and AD&D, Dependent Basic Life and AD&D, Supplemental Dependent Basic Life and AD&D
Group Size: 2+ or more enrolled
Eligible Employee: 30 hours per week or as deemed by employer and acceptable to WMC/MetLife
More information available here: 
To get a quote, please contact your insurance broker. If you do not have an insurance broker, please contact WMC.
Questions? Contact WMC Insurance at 608-258-3400.