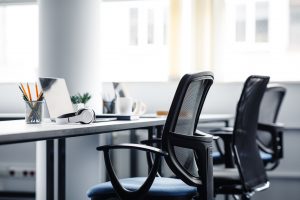 By United Healthcare
As more people become fully vaccinated and restrictions ease, your time working from home may be coming to an end — which may have you feeling stressed or anxious. After more than a year of staying home, returning to a busy workplace may feel daunting but the good news is, there are a number of steps you can take to help you ease back in.
It's perfectly normal and OK to be nervous about facing another change in your routine. In fact, a survey by the American Psychological Association found that roughly half of adults feel uneasy about returning to in-person interactions. The important thing is to learn how to help manage that stress and anxiety, said Dr. Donna O'Shea, chief medical officer of Population Health Management for UnitedHealthcare.
Dr. O'Shea shares tips on how to help you focus on your mental health as you transition back to the office.
Understand when you are most vulnerable to stress
According to the National Alliance on Mental Health, there are certain things that may make you more susceptible to stress and it's important to understand those triggers. This can include:
Not getting enough sleep
Not having a support network
Major life changes
Poor physical health
Not eating well
Recognizing when you might be more vulnerable to stress may help you prepare so that when you experience a major change — like returning to the office — you're more ready to handle it.
Manage your time
When the pandemic began, your day-to-day schedule may have shifted. Make a list of what you need to do each day to help you prioritize your responsibilities and delegate where you need to. Include time for getting ready in the morning, your commute and packing daily essentials for the office. Having a detailed schedule may help you feel less overwhelmed.
Consider tools and apps to help
If you are feeling overly stressed or anxious about returning to work, recognize those feelings and consider what you need to help you cope. For some people, that may include helpful tools and apps that can help you focus on your mental health. For example, eligible UnitedHealthcare members may have access to a stress-reduction app, like Sanvello, to help manage anxiety symptoms. The app includes daily mood tracking, a variety of coping tools, weekly check-ins to track personalized progress and peer community support.
Stay proactive with your physical health
Prioritizing your physical health is an important part of reducing stress. This may mean scheduling your workout into your day or simply staying more active throughout the day by adding physical activity to your workday routine. By exercising daily, you're producing stress-relieving hormones in your body, while improving your overall health.
Practice relaxation or meditation
Deep breathing and focused meditation may help alleviate your stress and help you remain calm. Even just five minutes may help you lower anxiety and keep your blood pressure in check. Taking time before you begin your day or scheduling breaks to refocus may have lasting benefits beyond a single stressful moment.
Focus on lifestyle changes before you return
Before you head back to the office, start focusing on how your lifestyle choices may be playing a role on your mental health. Things like prioritizing sleep, eating a healthy diet, drinking plenty of water and limiting alcohol may help you manage your anxiety symptoms before you change your routine.
Continue to stay diligent about COVID-19
If you're are stressed about going back to the office due to the risk of COVID-19, there are ways you can help protect yourself and others. This may include communicating with your coworkers and supervisors about your concerns and discussing whether you can stagger your work hours to avoid high-traffic entry and exit points. Plan ahead and make sure you are aware of your workplace's health and safety protocols in place. Measures like temperature screenings, wearing a mask and physical distancing may be required. Wash your hands often and focus on the things you can control.
As you make this transition, remember to give yourself grace and be mindful about your approach to manage your stress. Give yourself time to adjust, find ways to build your resilience and make time for self-care.